A friend of mine says that every bus driver in New York City knows when it's a full moon because all of "the crazies" come out. And there are plenty of police officers, doctors, and others who swear by this statement too. I believe the reason the full moon is thought to turn people into "lunatics" is because our culture no longer understands or honors the entire lunar cycle.
The truth is, everything in our environment has an effect on and within us–whether it's the sun, our food, the places we frequent, or our thoughts.
How The Moon Affects Your Feminine Body
Many cultures view the female menstrual cycle as a sacred source of insight and renewal. This is partly because the menstrual cycle reflects the macrocosmic cycles of nature, including the waxing and waning of the moon, the ebb and flow of the tides, and even the changes of the seasons.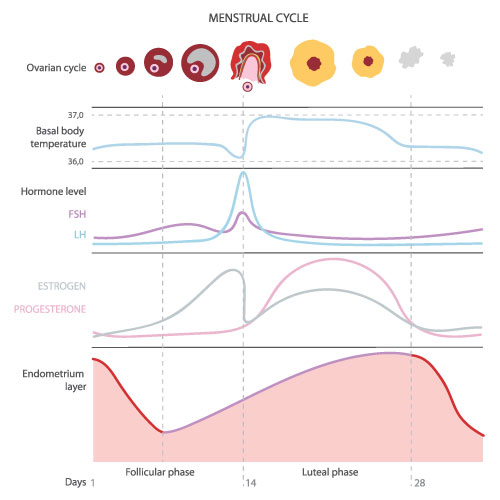 While in today's world many women are not connected to the lunar cycles, their menstrual cycles are still influenced by the moon. Studies have shown that that peak rates of conception and ovulation appear to occur at the full moon or the day before.  It's also common when women live together for their ovulations and menstruation to be in synch. This is why women living in the same household or dormitory will often menstruate at the same time. It's like a modern day moon lodge.
Typically the time when women are upbeat, energetic, and outgoing is during the first half of their cycle until ovulation. This coincides with the waxing of the moon leading up to the full moon. After ovulation women become more receptive—both to others and their own inner wisdom. This coincides with the waning of the moon leading up to the new moon. This is the time that we receive the messages we need to hear from our Souls.
It's common during menstruation as well as pregnancy and menopause for a woman's emotions and perceptions to be heightened. After menopause your body does not give you the same physical cues as it once did. But you still have this cyclic wisdom available to you.
6 Ways the Moon Regulates Your Body
Scientific research has documented that the moon affects not only the tide, but our individual body fluids and physiological processes by interacting with the electromagnetic fields of our bodies. In addition, further evidence suggests our dreams and emotional rhythms are keyed into the moon and tides as well as the planets.
Here are some ways the different lunar phases influence your body:
1. Regulate your menstrual cycle. When you are tuned into your lunar nature and in synch with the phases of the moon, you will typically start your period around the new moon and be at peak ovulation at the full moon. Studies have shown that peak rates of conception and ovulation appear to occur at the full moon or the day before. However during the new moon ovulation and conception rates decrease overall, and an increased number of women start their menstrual bleeding.
2. Improve surgery outcomes. According to a 2013 study in the journal Interactive Cardiovascular and Thoracic Surgery, patients who had heart surgery during a full moon stayed in the hospital 4 fewer days than patients who had surgery during other lunar cycles.
3. Explain your emotions. You may cry or feel stressed during the new moon. Our solar culture tries to minimize our "new moon emotions" with PMS medications and antidepressants. But many women today realize that despite their best efforts to suppress their symptoms, this phase is not just about cramps, headaches and fatigue. It's premenstrual truth-telling! You need to acknowledge the strong feelings and intuitions that arise during the new moon phase. This can be the key to eliminating PMS.
4. Influence your energy level. Practitioners of Ashtanga yoga have long taken "moon days" off. They believe that people exhibit too much energy on full moon days, which could lead to injury. During the new moon, Ashtangis participate in activities that calm the mind, such as meditation. You may want to tune into your own energy levels during the full and new moons and see what exercises your body best responds to.
5. Help you conceive. As with menstruation, the timing of the fertility cycle and labor also follows the moon.
6. Affect your sleep. One Swiss study reported in Current Biology, showed that participants who spent 3.5 days in a sleep lab where they were allowed to fall asleep and wake up as they normally would and where there was no access to sunlight or clocks, slept 20 minutes less overall during the full moon. It also took them longer to fall asleep and they had 30% less deep sleep. In addition, the participants had lower levels of the sleep-regulating hormone melatonin.
How to Use the Moon to Improve Your Health
Given our "solar," on-the-go culture, it is no wonder that women have learned to view their menstrual cycles as a "curse."  Lunar information is reflective and intuitive. It comes to us in our dreams and our emotions.  Since our culture generally appreciates only what we can understand rationally, many women tend to block the flow of unconscious "lunar" information that comes to them premenstrually or during their menstrual cycle. Taking a week off to go to a moon lodge is far from standard practice today.
But there are ways to honor your lunar nature and improve your health.  For example, you can take a "moon day" (or hour) where you retreat from the stresses of your daily life and reflect.  If you are still menstruating, you can do this either just before your bleeding starts or at its peak around the second day. Women who are able to do this a short time during the new moon are often able to prevent or eliminate painful PMS symptoms.
More Ways to Honor Your Lunar Nature for Better Health
Observe the waning moon. During the last days of the waning moon leading up to the new moon is the time to look inward, honor your body, and assess what's working and what's not in your life. It's a good time to rest and to plan, take breaks from work, and be sure to get enough sleep. Some of the ways you can benefit from the waning moon energy include:
Use a journal or calendar to set intentions.
Take time to meditate or sit quietly and consciously take notice of your breath.
Listen to what your intuition tells you and write down any thoughts or patterns.
Repeat this for several lunar cycles.
Act during the waxing moon. The time between the new moon and full moon represents the maturation of the ovum. This is the time that all of the intentions you set during the new moon are best put into action. It's the time to pursue your greatest joy and give it meaning in your life. Here's how you can use the waxing moon energy:
Choose one intention from the intentions you set during the waning moon.
Take one step each day toward putting that intention into action.
Record your progress in a journal until the full moon.
If you have not completed what you set out to achieve, continue during the next lunar cycle.
Be assertive during the full moon. The full moon is the culmination of outward expression.  Ayurveda teaches that the full moon is when a woman is her strongest. This is the perfect time to:
Release anything that is not working in your life (a relationship, a job, or something in your daily routine.)
Initiate a new project.
Try a new workout routine.
Have fun with friends.
Take moon baths. You can do this during the entire lunar cycle. Simply step outside for 15 minutes each night, look at the moon and bask in its glow. If you want you can dance under its light. Do what feel right as you tune into the moon's energy and notice how your body feels. 
Participate in a moon ritual. If participating in a moon ritual appeals to you, you may want to try a modern day moon lodge (new moon) or a women's circle (full moon.) You can also do something as simple as taking a dance, drumming or art class with several of your female friends during the appropriate moon phase.
How do you honor your lunar nature?  Please leave me a message in the comments section below.
Last Updated:
August 23, 2023