Many researchers have asked the question, "Do you dream in order to sleep, or do you sleep in order to dream?" While there is still a debate, most researchers agree that dreaming plays an important role in our well-being and health. This is because dreams come from the unconscious mind, and over 95% of our behavior is determined by our unconscious.
Though I've always been interested in dreams, I have become a much better student of my own dreams since 2012, when I began working Dr. Doris E. Cohen. Dr. Cohen is a clinical psychologist and psychotherapist who has spent decades doing dream analysis. (Listen to my recent Hay House Radio conversation with Dr. Doris E. Cohen.)
Dreams are our souls' way of broadcasting wisdom to us every night. But, few people realize how powerful their dreams are for providing guidance and healing information.
The most obvious way that dreams can affect your health is by revealing warning signs of illness through the repeated imagery of body pain or wounds. In fact, research is even showing that things like breast and lung cancer can show up in dreams long before you have symptoms, and in plenty of time to get the right treatment.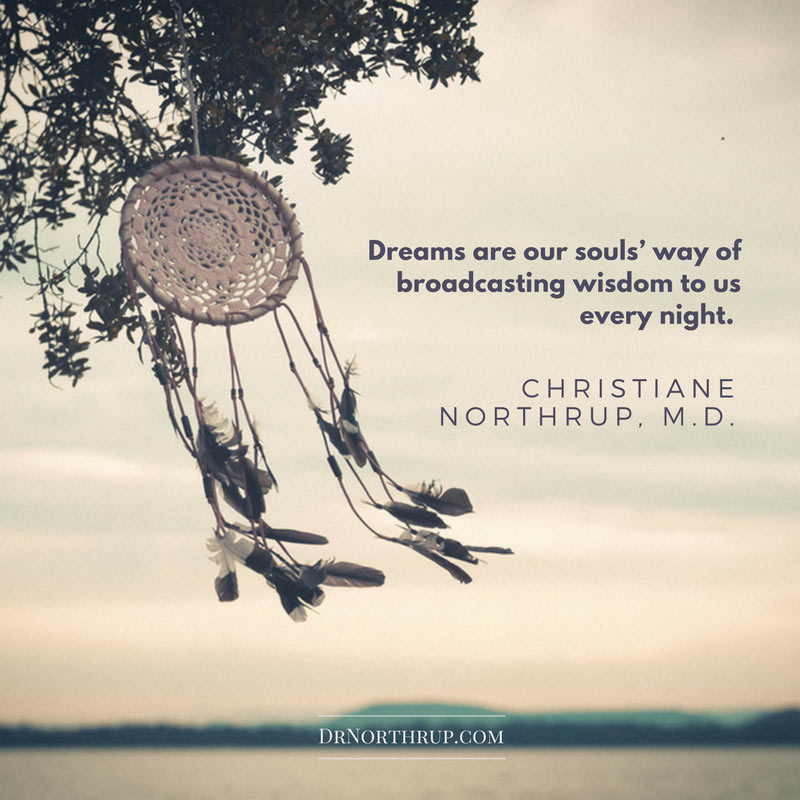 One of my colleagues once dreamt that he was bleeding to death from his rectum. The dream was so vivid and frightening that he went in for a check-up, including a colonoscopy. It turns out he had very early colon cancer, which was completely treatable. He credits the dream with saving his life.
Of course, these are extreme cases. It's more likely that your dreams are there to help you negotiate the choices in your daily life. Here are some other facts about dreams:
6 Things You Should Know About Dreams
You dream every night.
Simply because you do not remember your dreams does not mean that you do not dream. You typically spend more than two hours per night dreaming. You can have 4-7 dreams per night, but typically you only remember the last one you have before waking.
Your dreams are always about you.
Dreams are your mind's way of sending you messages through symbols and stories. These always relate in some way to your current life. Dreams with characters from TV shows or movies are just your mind's way of being efficient in making its point. There was a time when the character "Jake," the assassin from the TV show, Scandal, was repeatedly in my dreams. I realized that this was my unconscious mind asking me to look at who might potentially want to harm me, or "stick a knife in my back."
Dreams can occur in any of the four stages of sleep.
The most vivid and memorable dreams occur during Rapid Eye Movement (REM) sleep, the most restorative part of the sleep cycle.
You forget your dreams quickly.
Five minutes after the end of a dream, you forget about half of it. After ten minutes, you forget about 90% of your dream. However, with practice, you will get much better at remembering your dreams.
Your appearance in dreams is important.
What you are wearing in your dreams can clue you in to the role you are playing in life. For example, if you are wearing work out clothes, it may mean that you need to exercise more or pay attention to some other aspect of your health.
Your types of dreams say a lot.
Recurring dreams and nightmares are your unconscious trying to get your attention.
When you learn how to pay attention to your dreams and the messages they are relaying, you develop a very streamlined way to access your inner wisdom. And, the more you practice, the more skilled you become.
8 Easy Steps to Remembering Your Dreams
How many times have you woken up in the middle of the night after a very profound dream, but in the morning (or even a few minutes later!) you can't remember the majority of your dream? This is so common that many people don't even try to remember their dreams. But, remembering – and embracing – your dreams is well worth the effort because dreams help you to see what is really going on in your life. They are like deep psychotherapy.
Here are some things you can do so that you can start remembering your dreams regularly:
Prepare yourself for a restful sleep.
Go to bed every night at the same time (preferably before 10:30) and aim for 7-9 hours of sleep. Be sure to create a restful sleep environment with no light or noise to distract you.
Avoid alcohol, caffeine or medications that will interfere with your sleep. And, try not to eat or drink anything for several hours before bed.
Calm your mind and body before bed.
Gentle yoga, a relaxing bath, or meditation are great ways to prepare for a restful sleep. Avoid TV, social media and having lengthy conversations on the phone.
Set your intention.
Make a conscious decision to remember your dreams. If there is something you would like to receive insight on during your dream state, think about that issue or concern prior to going to sleep.
Place a journal and pen by your bed.
Having a journal and pen on your night table will allow you to write down your dreams as soon as you wake up. Otherwise, you are likely to forget them.
Set your alarm clock close to your bed.
If you are dreaming and you have to get out of bed in order to turn off your alarm, you will likely forget your dream. Set your alarm where you can easily reach it. If you can wake up without an alarm, that is better.
Write down your entire dream.
When you wake up, just lie in bed and try to remember your dream. Then start writing (or dictating as a voice memo) what comes to you. Try to capture your dream as fully as possible. But, even a dream fragment can be important. If you can't remember anything about your dream, write down the first thing that comes into your mind upon waking. It may be related to your dream in some way, and it might trigger your recollection. You can also write down how you feel when you wake up. The emotions you experience in a dream typically remain, at least for a brief period, when you first wake up. So, notice if you wake feeling anxious, or particularly happy, and write it down.
Keep a journal handy during the day.
It's very common that something you see or hear during the day will trigger a memory of a dream from the night before. Pay attention. Your soul is trying to tell you something. Keep a journal and make note these recollections.
Dr. Cohen's 7-Step Program For Tapping Into Your Unconscious Mind
While our dreams can vary significantly, they can be easily interpreted when we take a few minutes to examine them. Dr. Cohen explains that everything in our dreams is symbolic.  For example, a basement in a house represents your subconscious, a door indicates access to something that perhaps wasn't there before, technology indicates the need to upgrade something, water indicates cleansing of old emotions, and clothes represent the roles you play. 
But, these are just guidelines.  Your symbolism will be specific to you and the messages your soul is trying to get across.  If you can interpret your dream language and make connections between your unconscious thoughts and your waking life, you can discover a lot about yourself and what makes you happy.
Here is Dr. Cohen's 7-step process for interpreting your dreams:
1. Recall and Record
Before you go to sleep place a voice recorder or notepad on your night table.  Say out loud 3 times "I will remember my dreams clearly and well."  When you awake from a dream, take time to recall the details — even if it's in the middle of the night.  You need to sit up in bed, grab your notepad, and write down every detail you can remember, even if they are just images.  If you don't do this before you fall back to sleep you will not remember that particular dream in the morning.  Do this for every dream that you can recall during the night.  The more frequently you practice this, the better you will become at recalling and recording.  
2. Give Your Dream a Title.
Dr. Cohen suggests giving each dream a title as though it were a newspaper headline. This exercise is highly valuable. The reason for the headline title is to summarize the main points of your dream. While the title may sound superficial, it is actually shorthand for the symbols in your dream. If you get stuck, try saying the title of your dream out loud slowly and think about what the phrase or word means.  I often find that once I give my dream a title, I can easily hone in on the meaning of the dream.
3. Read or Repeat Out Loud
When you are awake the next day, slowly read or repeat out loud what you have recorded about our dream.  The emphasis here should be on reading or repeating slowly because when you go =too fast, you can miss the essence of your dream.  Also, be sure to repeat your dream without interpretation.  This exercise is like a meditation and it can help to reveal to you what your dream is about.  Keep in mind your dream are always about you!
4. Link Your Dream To Your Waking Life
Most dreams are not predictive but instead are related to what is going on in your life right now. So, for example, dreams of impending disaster such as tsunamis, plane crashes r other frightening events – real really saying "wake up!"  These types of dreams are telling you to look at the powerful forces at play in your life – relationships, feelings, situations – and help you prepare with to deal with them.  And, because of this, dreams can help you toward constructive ends.  A friend once told me that she dreamt of a terrible storm.  In her dream, she saw her family members huddled around her in a room in an effort to keep her "safe."  They told her not to open the door. However, in her dream, she opened the door and stepped out into the storm. At the time of this dream, my friend was considering a career change.  This dream represented to her that she was ready to leave the security of her job (and reject the conservative advice and patterns of her family) and explore a new challenge, which she did.
5. Describe Your Dream As If Talking to a Martian
Consider which details stand out the most in your dreams and describe them as if you're speaking to a Martian.  For example, if you see yourself sitting in an armchair, you then need to describe that armchair.  What is it's function?  What does it represent? While this may seem odd, the ore you can simplify the images you see in your dreams,  the more you will e able to understand what your dreams are trying to tell you.  You don't need to spend a lot of time describing each object in your dream.  Making this process quick and easy is what makes it deeply effective.  Remember, even if you see common objects such as cars, purses, wallets, or basements in your dream, your dream language is unique to you.  This is why dream dictionaries don't work.
6. Summarize The Message From Your Unconscious
The purpose of this step is to identify what your unconscious is trying to tell you.   To do this you need to reflect on the work you did in Steps 1 through 5.  Then try to summarize your dream's content.  This may seem difficult at first because you are trying to interpret the symbols from the right brain with your analytical left brain.  But, once you start to understand your unique dream symbols, this will start to become easier.  Remember to keep your interpretation simple.  And, be careful not to modify your dream's content.
7. Consider Your Dream's Guidance In Your Waking Life
Messages from your unconscious are conveyed in your dream as stories – as drama!  This part of the process is the most illuminating because it encourages you to look at yourself and deal with any fear or issues.  Start by repeating out loud the message you summarized in Step 6.  Consider the symbols in your dream and translate them into common guidance related to your life.  Finally, consider one or two tangible actions you can take in response to your dream's guidance.  
3 More Ways You Can Work With Your Dreams
Get a dream buddy.
When you start to interact more consciously with your dreams, it's a good idea to be accountable to someone else. I recommend getting a dream buddy or forming a dream circle where you routinely discuss your dreams with others. You can also talk with your significant other about your dreams every morning over breakfast. If you set aside a regular time to discuss your dreams, you'll find that you remember more.
Try "dream incubation."
A dream incubation is when you ask your subconscious to give you a particular dream for guidance. I did this over 20 years ago when I was trying to decide on which publisher I wanted to work with when writing my first book. Though the details are foggy now, I recall that one of my choices was a man who, in my dreams, was shadowy, which meant I didn't trust him. Ultimately, I chose someone else.
Practice every night.
Remembering your dreams takes practice and commitment. Following these steps each night will help you to increase your ability to remember your dreams.
In doing these exercises regularly over time, I have opened up an entirely new relationship with my unconscious and my soul. And now, I often know what my dreams are trying to tell me without needing much outside interpretation.
I'd love to hear about your dreams and how they have guided you in the comments section below.
Last Updated:
November 6, 2017