Did you know that your toes are meant to move independently of each other in the same way you move your fingers? That's right! According to Katy Bowman, author of Whole Body Barefoot and Every Woman's Guide to Foot Pain Relief, we have the same potential in our feet as we do our hands – such as playing the piano, typing, and other unique motions — but we have neglected these muscle groups for our entire lives. So, instead of being able to move our toes independently, most of us have a hard time even lifting all of our toes together while keeping the rest of our foot on the ground.  (Go ahead, stand up and try it right now.)
Even if you are among the few who can do this with ease, it is still likely that you have had or will have some foot ailment, whether it be from constrictive shoes (yes, I mean the pretty ones), lack of foot tone and flexibility, or years of walking and standing improperly. What you are left with are stiff tissues, weak muscles, and degenerating joints in your feet. And, you wonder why they hurt!  But here's the real issue: If you can't walk comfortably, you're more likely to stop being physically active, which can reduce your quality of life.
The Toe Bone is Connected to …Everything
Many of you probably remember the folk song, Dem Bones. The lyrics go through the connections of the toe to the foot, to the heel, and ultimately all the way to the head bone. Well, those connections are more important than you might think! According to the Foot Health Network, there are over 25 foot conditions and symptoms — including arthritis, bunions, athlete's foot, overlapping toes, corns, ingrown toenails and heel spurs — any one of which can interfere with your body's ability to function properly. If you think about it, you already know this is true.  When your feet hurt, your entire body hurts.
This has been known in many cultures for centuries. For example, Reflexology, an ancient form of Chinese massage, is based on the belief that the feet mirror the body and that foot health is the foundation upon which whole body wellness rests.  The foot is divided into 10 vital-energy sections or zones (all of the energy meridians of the body either begin or end on the feet.)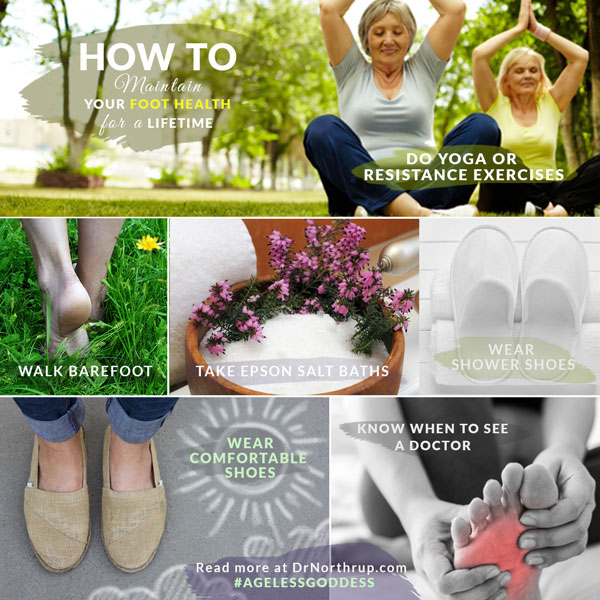 Misalignment of the bones in your feet can cause trigger points. When trigger points are massaged with enough pressure, blockages are removed and the result is therapeutic. In this way, Reflexology has been used to stimulate body functions, eliminate toxins, improve circulation and soothe nerves.
The good news is, when the bones in your feet are in proper alignment, your entire body feels good.  And, there are many simple ways you can improve your foot health right now.
7 Exercises to Improve Your Foot Health Today
Your feet were designed to carry you over all types of terrain from soft sand to rocky ground. As such, they are meant to move in a great variety of angles to provide stability and dexterity. Together, your two feet contain more than 50 bones, 60 joints and 200 muscles, tendons, and ligaments. So, it makes sense that, like the rest of your body, they need exercise to keep them healthy.
Here are some exercises you can do at home to increase the strength and flexibility of your feet and improve the overall function of your entire body:
Toe Fan. While standing, lift all of your toes together. You want your pinkie toe to rise to the same level as your big toe. As your toes are lifted, spread them as wide as you can and then release them to the floor. This will strengthen the muscles in your shin as well as your toes, which will help with a stronger push-off when walking and create better balance. Do this 5 times on each foot. Note: if you can't lift all five toes off the ground without lifting your foot, work on this first.
Great Toe Down. While standing, lift all 10 toes up. Then, press just your big toes down and up without moving you other toes. This exercise helps to develop neuromuscular connections with your feet. "Smart" feet are the base of a strong kinetic chain, and can lead to greater function all the way up your body. Try doing this with your pinkie toes too. Then alternate big toes and pinky toes. Repeat 5-10 times on each side.
Rock and Roll. While standing, rock onto the outer edge of your foot and then to the inner edge. This helps create both flexibility and strength in your ankles and may reduce ankle injuries.
Heel Lift. While standing, lift just one of your heels so you're on the ball of your foot. Hold for 20-30 seconds and slowly lower it down to the floor. Do this 8-10 times. Then, with your heel lifted, roll the ball of your foot from side to side. Repeat on the other side. This is a great exercise to do before a workout because it not only warms up for your feet, but it stimulates the reflexology points in your feet that correspond to your heart and lungs.
Achilles Stretch. Loop an exercise band around a table or desk leg. Sitting directly in front of it, slip your foot into the loop so the exercise band curls around your forefoot, just below your toes. Pull back with your forefoot, flexing at the ankle. Hold for several seconds, then relax. You should feel a stretch along the back of your heel. Repeat 10 to 15 times.
Tennis Ball Stretch. Another good way to restore proper tone to your foot is to step onto a tennis ball and move it around, massaging your foot. Do this with gentle pressure.  After using the tennis ball, stretch both the sole and the top of the foot by kneeling with your toes turned under. Then, release your toes and place the top of your foot to the floor while you sit back onto your heels to stretch out the top of your foot.
Hold Hands with Your Feet. While sitting, interlace your fingers with your toes.  Do one foot/hand at a time.  If you can't easily reach your feet, ask your partner or a friend to help you out. You could also buy a pair of toe alignment socks.
Don't be surprised if these exercises are difficult at first. You may need to undo many years of physical and psychological tension that has built up in your feet. The patterns that lead to instability in our feet often start when we are very young.  For instance, if you felt at a young age that your environment did not support you fully, your feet may literally give in and collapse. Or, if you resisted your early environment, feeling driven to run and escape, your feet (and legs) may be constantly full of tension. So, it may take time to retrain your body and build new strength.
(Note: For further information and a 10 part foot exercise series created by my Pilates teacher, Hope Matthews, please go to her Facebook page at https://www.facebook.com/Sparhawk-Pilates-and-Center-for-Intuitive-Movement-Healing-222369404459371/)
Dr. Northrup's Steps for Walking Correctly
Today urban walking on hard, unvaried surfaces along with poor shoe choices contribute to the limited range of motion most of us have in the small bones and ligaments in our feet.  Stiff, weak tissues in your feet can create a clumping effect where your feet, ankles, and lower back become fixed. This can lead to pain in your feet, pelvis, and lower back. 
Here's how to walk properly and start getting your feet healthy again:
Step 1. Align Your Feet. Start by setting your feet straight ahead. When you stand properly, your alignment extends from your feet up through your calves, hamstrings, glutes, and up your spine all the way to the base of your skull. Be sure that you are rooting down through the center of your heel. Lift and spread your toes wide then root down with your big toe and little toe.  This creates a triad as the base of your stance. Pay attention to your alignment from your toes, to your knees and upper thighs.
Step 2. Center Your Weight. Your pelvis is the center of your body mass.  When your feet are set correctly, your ankle joints should feel centered and your pelvis should be directly over your heels. If your ankles are rotating inward (common), try lifting your inner arches. To do this, lift the muscles of your lower leg that attach to your arch. You should feel this lift travel from your inner arch to your outer shin up to your knee and the inner thigh and all the way up to your pelvic floor. You will also feel a release of the tailbone to a more neutral position. Engage your core to keep your pelvic tilt. 
Step 3. Keep Your Shoulders Relaxed. Your upper body posture is important as well. Keep your shoulders in a relaxed position — slightly pulled back and down. Don't pull them too far back that you puff your chest and arch your back. They should remain directly over your hips.  Stretch up through the crown of your head keeping your neck neutral to create vertical support while you walk. This will minimize the strain on your back.  You can do this while sitting at your desk as well to prevent slouching and save you from shoulder pain.
Step 4. Start with Baby Steps. Walking properly can be like learning to walk for the first time. Start slowly and deliberately. As you move your foot allow your heel to strike first and then roll your foot forward heel to toe. Then, push off with your toes and imagine being able to see the sole of your foot as you do this.  This may feel like a big stretch in your toes. This motion also brings your calf muscles into play. A proper walking motion uses nearly all of the muscles in your leg including your calves, hamstrings, and quadriceps.  As you walk, visualize your hamstrings and quadriceps propelling you forward onto the heel of your other foot. Keep both feet facing forward at all times. Your stride should be almost silent. You should not hear a slap or stomp.
Step 5. Swing Your Arms. Let your arms hang naturally at your side. As you begin walking, your arms will naturally start to move in opposition to your legs so that your right arm swings forward with your left leg and vice versa. If it is cold out, wear gloves and keep your hands out of your pockets. If you carry a purse, be sure that is not too heavy, too short, or too long. This can interfere with your ability to swing your arms naturally. In fact, a heavy bag can can create tightness, stress, and injury because you're not able to move your arms or legs through their full range of motion. If you must carry a bag, try to lighten your load or wear a cross-body or messenger-style bag to disperse the weight more evenly.
Step 6. Lengthen Your Stride. Allow the leg that's behind you to linger slightly before stepping it forward.  This helps to stretch your hip flexor muscles. Tight hip flexors can cause you to shorten your gait, setting you up for imbalance throughout your entire body.
6 More Rejuvenating Tips for Healthy Feet
In addition to exercise, there are many other ways you can care for your feet to ensure they stay healthy.
Practice Yoga or Resistance Flexibility. One of the best ways to take care of your feet is with yoga or resistance flexibility. When you treat foot problems with yoga or fascia stretching, you end up treating back pain, hip pain and all kinds of structural problems. Not only can yoga or resistance flexibility help you stretch out and strengthen the muscles in your feet, but they help to heal the root causes of back pain, hip pain and many other structural problems.  (To learn more about resistance flexibility go to thegeniusofflexibility.com)
Walk Barefoot Outside. Walking barefoot or in minimal footwear helps you regain your connection to your feet.  By walking on uneven terrain you learn to use your feet the way they were designed.  This combined with your exercises will help you strengthen your feet quickly. Walking barefoot also massages the reflexology points in your feet. Finally, when you walk barefoot on the Earth, you are literally getting grounded and allowing the Earth's negatively-charged electrons to reduce inflammation and even remove anything from heavy metals, to air pollution, to trans fats.
Soak in Epsom Salts. Soaking your feet in Epsom salts is a great way to relax. It also has many health benefits such as increasing your absorption of magnesium, flushing out toxins, reducing stress, relieving muscle aches and cramping, eliminating odor, and even treating foot fungus. Try doing this every day for 20 minutes.
Wear Shower Shoes. If you shower at a gym or other public places, be sure to protect your feet by wearing shoes in the shower and other places where mold, fungus and bacteria may be present.
Choose The Proper Shoes. Constrictive footwear limits the blood flowing in and out of your feet and cramps the bones of your feet together. This results not on only in clenched musculature in your foot, but also your entire body. Avoid tight or pointy shoes. Look for shoes that are broad and rounded, giving your toes plenty of room. Shop for shoes toward the end of the day when your feet are the most swollen. Choose shoes made of breathable fabrics such as leather or mesh so that air can circulate. If you have diabetes or spend a lot of time on your feet, you need to take special care when selecting footwear. Note: fancy and beautiful high heels or tango shoes are fine for a small amount of time. Consider wearing them to be an athletic endeavor, or a nice fashion statement if you don't intend to walk or stand much. No one should walk around in high heeled shoes all day (despite what is shown on popular television shoes like Scandal and The Good Wife.)
Know When to See a Doctor. If you have severe pain or swelling in one or both feet, an open or oozing wound, signs of an infection, or you are unable to walk or put weight on your foot without severe pain, be sure to see a doctor for an evaluation. Also, if you have diabetes and have a wound that isn't healing be sure to seek medical advice
Do you have any foot ailments?  How have you been able to heal them?  Please leave me your comments.
Last Updated:
April 4, 2016