If you're like me, then you know that seeing and smelling beautiful flowers can make you feel amazing, not to mention how a beautiful bouquet can transform any space. Then it's probably no surprise to you that the use of healing flower essences is taking root more firmly around the world.  This is, in part, due to the emerging field of vibrational medicine. 
All flowers have an innate wisdom that they lovingly share with us.  Every flower has its own message — and its own therapeutic properties. Chances are, if you are particularly attracted to a certain flower, it's because on a deep emotional level it is providing something that you need in your life.
I love Mandivillas. While speaking with Katie Hess on my radio show, Flourish, we discussed how these beautiful flowers activate acceptance, and send the message to "fall in love with what is." It's amazing to me that when we allow the essence of flowers to assist us, our lives become more beautiful and healthier. And, this isn't new information.
For centuries medical practitioners in many cultures have used flowers for their therapeutic properties. In the 28th century BC Emperor Shen Nung, (considered the father of Chinese herbal medicine) wrote about the health benefits of a dendrobium species of orchid in "The Herbal," the earliest Chinese text concerning the use of herbs for medicinal purposes. (He also wrote about the medicinal properties of cannabis.) Today in China, orchids continue to be used for their therapeutic qualities, and are believed to be useful in treating cancer, strengthening the immune system, and improving eyesight.
On this continent, Native American medicine men developed a medicine "wheel" that shows the unique benefits of plants. More recently, in the 1930s in England, Edward Bach, developed 38 flower remedies. Each remedy is the essence of a different wildflower and targets a specific emotional state.
What Are Flower Essences?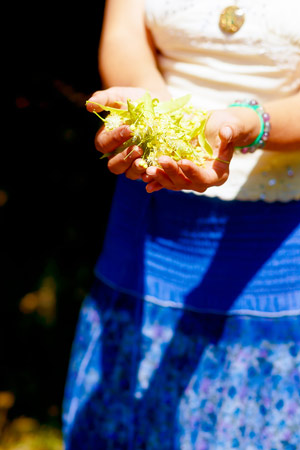 Flower essences, or flower remedies, are infusions made from the flowering part of a plant.  The process of sun steeping, or boiling the flower in water, captures the energy imprint of the flower. So, unlike essential oils or herbal remedies, which contain physical substances extracted from plants, there is no physical part of the flower in a flower essence, only its healing vibration.  And, every flower has a different healing quality.  
Flower essences offer a wonderful way to heal and grow because they act as catalysts for change at a deep emotional level. The positive changes that can occur from using flower essences include feeling more confident and creative, experiencing more joy, being more forgiving, forging better relationships, having more clarity and focus, and even cultivating a deeper connection to your Higher Self.
When you use a flower essence you are connecting on a spiritual level with nature and your guides. So don't be surprised if you start to gain clarity about your life's purpose while using flower essences.
How Do Flower Essences Work?
Unlike pharmaceuticals, which suppress symptoms, flower essences work by the principle of resonance in the subtle body where imbalance starts. In other words, the action of flower essences is energetic, not biochemical. All plants have a unique vibrational energy pattern, and the flower is the pinnacle of this energy. Sometimes flower essences work immediately; other times you may feel the effects unfold over days or weeks, layer by layer.
Research in the field of psychoneuroimmunology shows a clear interrelationship between physical illness, stress and emotional outlook. While flower essences don't address specific physical ailments, such as asthma or cancer, they work on an energetic level to address the underlying emotions, release unwanted patterns, and attract what is right for you.
When you use flower essences, anything that doesn't match the vibration of a chosen essence simply goes away. For example, if you are experiencing fear and anxiety and you use a flower essence with a calming or joyful vibration, your awareness of that calm and joyful feeling is raised, and the feeling of fear (which is a lower vibration) dissipates. This is also how homeopathic remedies work.
Are Flower Essences Safe?
Flower essences are very safe and can be used by anyone, even children and animals. Essences compliment every healing modality. True flower essences have no fragrance, dye, flavor or preservatives so there is nothing in them you can react negatively to, or that could interfere with medicines or herbs you are taking. All pure flower essences are neutral in nature and subtle in effect. If you happen to choose an essence that is not appropriate, it will simply have no effect. So there is no risk in choosing the wrong one.
Now, as gentle as they are, flower essences can bring buried emotions to the surface. So, on rare occasions you may feel uncomfortable before you feel better. But, this does not mean the essences aren't working. In fact, the opposite is true. Those emotions are coming up to be released and that means you are allowing yourself to heal at a deep level.
How You Can Use Flower Essences to Heal
There are so many ways you can use flower essences both internally and externally. The most common way to take a flower essence is to place a few drops under your tongue several times per day. You can also add several drops to pure water and sip throughout the day. 
Here are some other ways you can use flower essences:
Apply to acupuncture points or chakras.
Put several drops in your bath.
Use as a spray or mist. (This is great for young children and even around your house.)
Dab them on minor cuts and scrapes
Put a few drops in beauty products, shampoos, massage oils, and lotions.
Rub them on your hands when giving healing treatments such as Reiki or massage.
Add to other herbal tinctures to augment the benefits.
Put in your food. (When you do this, think of a theme, such as "clarity" and then add drops of a clarity essence to your food for a period of time when you need to experience greater clarity.)
There is really no wrong way to use flower essences.  Just use your imagination.
Get Started with Flower Essences Now
There are quite a few high quality brands of flower essences on the market.  And, many practitioners sell the essences they recommend. The best way to choose a brand is to do some research online and choose the one that resonates with you. Bach flower essences are very well known and easy to find at your local natural health stores. I like Katie Hess's brand, Lotus Wei. You can purchase her products online, and in spas and hotels. And, there are many more to choose from, including Alaskan Essences, Perelandra Essences, and Flower Essence Society (FES).  Just let your intuition guide you toward the right one. Or, see a professional flower essence counselor to help get you started.
When you find the right brand for you, try several essences and pay close attention to how you feel when you use them. Most websites have a list of remedies and what emotions they support and/or release. If you are experiencing a physical symptom, you will want to tune into the underlying emotion then choose an essence to support the release of that emotion. For example, if you have pain, you may notice that you have anger that you are holding onto. Then, choose an essence to support joy and help you release your anger. You can also try the quiz on Lotus Wei.  You simply choose three flowers. It's really accurate!
If you are using flower essences three to four times per day, you will likely feel a shift in two to three days.  Be sure to make note of how quickly the essences work and what insights arise. One bottle of an essence will usually last for the entire transformation cycle – approximately two months.
Some of the most popular essences used at Lotus Wei magnify joy, happiness and freedom, increase self-love and appreciation, enhance energy and vitality, and promote fearless creativity and inspiration. They can also help to quiet your mind, provide a sense of peace and support, and soften emotions such as jealousy and irritation.
The most wonderful thing about flower essences is their ability to promote healing on the emotional, mental and spiritual levels, which then helps to create more health and harmony in your physical body.
Here are some additional resources that you may like:
Flower Evolution by Katie Hess
Flower Therapy: Welcome the Angels of Nature into Your Life by Doreen Virtue and Robert Reeves, N.D.
Flower Therapy Oracle Cards A 44-Card Deck and Guidebook by Doreen Virtue and Robert Reeves, N.D.
Have you ever used flower essences? What was your experience?
Last Updated:
May 9, 2017