Learn to flourish in all areas of your life with guidance from Dr. Christiane Northrup. You'll be treated to a series of conversations between Dr. Northrup and a number of extraordinary minds, such as Cheryl Richardson, Dr. Bruce Lipton, and others. This bestselling author and women's health specialist, Dr. Northrup, and her diverse lineup of guests offer insights and inspiration for how to create vibrant, healthy, pleasurable lives vs simply avoiding disease.  Hear Dr. Northrup LIVE every Wednesday at 11:00 am ET/ 8:00 am PT  
Join me on HayHouseRadio.com, where you can listen live every Wednesday from 11:00 a.m. to 12:00 p.m. ET. Here's what you can look forward to on Flourish! my Internet radio show:
6/6 – Unraveling the Myths Surrounding Domestic Violence. Physical violence is not the only type of domestic abuse. Mental, emotional and psychological abuse are also a form of domestic violence. Join Dr. Northrup and her guest, Dr. Laura Streyfeller, mental health counselor and author of Wife Beater Shirt Optional: There Is No Dress Code for Domestic Violence, as they discuss and dispel the many myths, stereotypes and misconceptions surrounding domestic violence and the resulting trauma. Given the growing number of sexual harassment claims surfacing today, this discussion is both timely and important.
6/13 – How Your Soul Can Set You Free From Sacrifice, Lack, and Abuse (replay). According to the 12 Archangels, celestial mentors and guides are helping us to successfully move through this school room Earth, and the Divine Feminine Power of Liberation is swiftly awakening in every woman and man. The instant success of the blockbuster movie Wonder Woman is an example. The Divine Feminine desires to replenish and to restore our innate security to create a new life of respect and balance from the inside out. Join Dr. Northrup as she welomes Belinda Womack who works directly with the 12 Archangels. They will share easy-to-practice tools to hear how your Soul can free you from sacrifice, denial, abuse and entrapment. Dr. Northrup offers her wisdom on becoming aware of the energy vampires that can distract you from reclaiming your happiest life. You were born free to live heaven on earth. Tune in and find out how.
6/20 – How to Alleviate Aches and Pains through Posture. The way you stand, sit and move can have a huge effect on your body. Poor posture over time can cause weakness and pain. Fortunately, with correct posture you can live an active and pain-free life. Join Dr. Northrup and her guest, Esther Gohkale, author of 8 Steps to a Pain-Free Backand founder of the Gokhale Method, a system of healthy posture and movement that helps to restore your structural integrity. If you want to heal from pain and return to your "primal posture" to build strength and resilience, and minimize compression, tension, and degeneration, you'll want to tune in for this show.
6/27 – The Right Healthcare for Empaths. If you are an empath you may be highly sensitive to standard medications – maybe even aspirin. In addition, the regular dosages of common medications may be too high. In general, highly sensitive people such as empaths don't do well with chemical and surgical intervention. Instead, they tend to do much better with healing approaches based on quantum energy, including homeopathy, flower essences, acupuncture, massage, herbs, prayer, chiropractic, Divine Love healings and more. If you're an empath or know someone who is, be sure to join Dr. Northrup for a discussion on finding the right health care for you and using it to regain and maintain your health.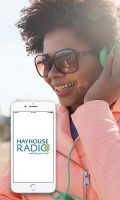 All New Hay House Radio App
A Hay House Radio app for your phone is also available, too! This is a wonderful way to listen live or catch up on episodes you may have missed. Be sure to check back for updates frequently.