Learn to flourish in all areas of your life with guidance from Dr. Christiane Northrup. You'll be treated to a series of conversations between Dr. Northrup and a number of extraordinary minds, such as Cheryl Richardson, Dr. Bruce Lipton, and others. This bestselling author and women's health specialist, Dr. Northrup, and her diverse lineup of guests offer insights and inspiration for how to create vibrant, healthy, pleasurable lives vs simply avoiding disease.  Hear Dr. Northrup LIVE every Wednesday at 11:00 am ET/ 8:00 am PT  
Join me on HayHouseRadio.com, where you can listen live every Wednesday from 11:00 a.m. to 12:00 p.m. ET. Here's what you can look forward to on Flourish! my Internet radio show:
7/25 – Talk Yourself Younger. Your mind and body are intricately linked, so it should come as no surprise that your body not only hears, but believes, every word you say. Research shows that by becoming more aware of how we speak of – and to—our bodies, we actually have the power to change the course of illness, dysfunction, and even how our bodies age. Join Dr. Northrup for a conversation on the role that thoughts and words have on your health and how you can change the conversation to heal and even get younger!
8/1 – How To Avoid Hip Replacement at Midlife. The number of hip replacement surgeries has more than doubled over the last 10 years, and they are especially common for women at midlife. While there are some instances that may require a hip replacement, there are many ways to prevent them. Join Dr. Northrup as she discusses ways you can stave off hip problems at midlife and beyond.
8/8 – Becoming Your Authentic Self. According to Dr. Northrup's guest, Mare Chapman, M.A., author of Unshakeable Confidence: The Freedom to Be Our Authentic Selves, many women hold disempowering beliefs simply because they are female. Mare is a mindfulness-based psychotherapist who teaches guided imagery and mindfulness meditation to help women overcome the gender conditioning that Mare says all women receive beginning at birth. Join Dr. Northrup and Mare Chapman as they discuss how women can overcome these disempowering beliefs and reconnect to their true, essential, healthy and confident selves.
8/15 – How To Balance Your Hormores Naturally. If you have struggled with hormone imbalance and related health issues, you are not alone. Having battled Graves', Hashimoto's, adrenal fatigue, estrogen dominance and years of digestive issues, Dr. Northrup's guest,Magdalena Wszelakiunderstands because she has been there too. Now, healed and a practicing Endocrine Nutrition Expert and a Certified Holistic Health Coach accredited by the American Association of Drugless Practitioners, Magdalena inspires others to take care of their health and their hormones. Join Dr. Northrup and Magdalena as they discuss the dietary and lifestyle changes you can employ to reclaim hormonal balance and your health.
8/22 – Heal from Addiction with Divine Love. If you or a loved one suffer from drug or alcohol addiction, you know that many of the standard addiction recovery programs simply do not work for everyone. Dr. Northrup's guest, Robert G. Fritchie, Director of the World Service Institute, has created an addiction healing program using Divine Love to help people with prescription drug, illegal drug and alcohol addiction. Many people have healed from addiction and have stayed addiction free using this program. Be sure to tune in to learn all about the Divine Love Addiction Healing Program and how you can use it to break free from addiction.
8/29 – Your Astrological Forecast for The Summer. If this summer has felt anything but calm, there is a good reason! The astrological climate has certainly been anything but tame. The good news is, when you are aware and in synch with the Universe, it supports you – no matter what. Join Dr. Northrup as she discuss what transits and themes are important this summer and beyond and how you can use astrology to gain perspective on yourself, loved ones and events, and stay connected and fulfilled even when there are big changes occurring.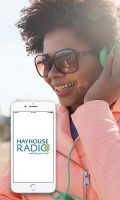 All New Hay House Radio App
A Hay House Radio app for your phone is also available, too! This is a wonderful way to listen live or catch up on episodes you may have missed. Be sure to check back for updates frequently.