Learn to flourish in all areas of your life with guidance from Dr. Christiane Northrup. You'll be treated to a series of conversations between Dr. Northrup and a number of extraordinary minds, such as Cheryl Richardson, Dr. Bruce Lipton, and others. This bestselling author and women's health specialist, Dr. Northrup, and her diverse lineup of guests, offer insights and inspiration for how to create vibrant, healthy, pleasurable lives vs simply avoiding disease.  Hear Dr. Northrup LIVE every Wednesday at 11:00 am ET/ 8:00 am PT  
Join me on HayHouseRadio.com, where you can listen live every Wednesday from 11:00 a.m. to 12:00 p.m. ET. Here's what you can look forward to on Flourish! my Internet radio show:
2/7 – How to Overcome Worry and Fear Do you ever hear yourself say "my biggest fear is?" Do people ever ask you "why do you worry so much?" Fear is a natural and necessary response to real threats. However, constant fear and worry are emotions that can keep you from living your life to its fullest. What is the appropriate amount of worry/fear? Join Dr. Nothrup as she discusses this as well as the fear-anger connection. You will learn how you can overcome irrational fears that damage your health and interfere with your daily life, as well as ways that you can move beyond fear to live your life with passion and joy. 
2/14 – How to Attract Love Today is Valentine's Day! It's the one day of the year that everyone wants to receive gifts of love and appreciation.  However, when you are not in a relationship (or you're in one with an energy vampire,) Valentine's Day may make you feel alone, miserable and dejected.  Dr. Northrup knows because she's been there!  On this episode of Flourish, Dr. Northrup will share her secrets to help you learn how you can attract love into your life, which Dr. Northrup says is as vital to your health and well-being as diet and exercise.
2/21 – The Truth About Heaven Do you ever wonder if heaven really exists? Do you long to understand the bigger picture of our existence? Join Dr. Northrup and her guest, Leo Galland, M.D., an internationally-recognized clinician, researcher and educator, and author of the new book, Already Here: A Doctor Discovers the Truth About Heaven, for a discussion about the real meaning of life. When his 22-year-old, brain-damaged, special needs child, Christopher, died, Dr. Galland received messages from Christopher.  When you join Dr. Northrup and Dr. Galland, you will learn what we all want to know about spirit guides, heaven, good and evil, and more.
2/28 – The Magnesium Miracle Your body can only stay healthy and disease-free if you give it the right building blocks.  While Dr. Northrup always advocates for eating a healthy diet, it's the sad truth that our soil has been depleted, so even the best organic foods no longer provide us with all of the nutrients we need. Dr. Northrup's guest, Carolyn Dean, M.D., N.D. is both a physician and a naturopath, and an expert on how to give your body the minerals and nutrients it needs to reach an optimal state. She has written over 35 books, including The Magnesium Miracle which she recently updated.  Join in for an enlightening discussion about all of the functions of magnesium, why everyone needs more magnesium, and how you can get it in it's most absorbable form.
3/7 – Get Ready to Feel Good! If you've ever felt a strong pull to do something different with your life, tune in as Dr. Northrup speaks with her guest, Sarah Bamford Seidelmann, a medical doctor turned shaman, certified life coach, and author of the book Swimming with Elephants: My Unexpected Journey from Physician to Healer. Sarah took a 6-month sabbatical from her work as a physician and found, among other things, the healer within herself with a gift for helping others connect to their own destiny.  Tune in and learn how you can rediscover your strengths and reconnect with your heart's desires.
3/14 – What is an Energy Vampire?  What are energy vampires? Dr. Northup is discussing energy vampires in her first episode of the Dodging Energy Vampires series on Flourish. Energy vampires are people who exhibit some or all of the characteristics of Cluster B personality disorder. These include antisocial personality disorder, borderline personality disorder, histrionic personality disorder, and narcissistic personality disorder. Energy vampires can significantly disrupt the lives the people who care about them, including causing problems for their victims in relationships, work or school, and triggering social isolation. Learn the characteristics of these types of people when you tune in to this episode for Flourish.
3/21 – Release the Communicator within You and Speak Powerfully  Most public speaking programs teach the same old techniques and formulas aimed at helping you overcome your fear of public speaking so you can "get the job done."  Dr. Northrup's guest today is Gail Larsen, author of Transformational Speaking: If You Want To Change The World, Tell A Better Story. You will learn how Gail's transformational speaking process works to reveal the part of you that is fully capable – right now—of opening hearts, inspiring change, and moving others to act through public speaking.  Be sure to tune in to unveil the compelling communicator within you.
3/28 – How You Can Heal Your Life   Most people put too much faith in the medical system and not enough faith in their own ability to heal. This is, in part, because we are shamed into the "doctor knows best" model of medicine. While doctors certainly can help many people, there is still a need for you take responsibility for your own body and your own health. And, you can do this without making your doctor wrong.  Learn how you can step out of the blame game, take back your power and heal your life.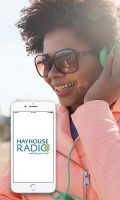 All New Hay House Radio App
A Hay House Radio app for your phone is also available, too! This is a wonderful way to listen live or catch up on episodes you may have missed. Be sure to check back for updates frequently.