Learn to flourish in all areas of your life with guidance from Dr. Christiane Northrup. You'll be treated to a series of conversations between Dr. Northrup and a number of extraordinary minds, such as Cheryl Richardson, Dr. Bruce Lipton, and others. This bestselling author and women's health specialist, Dr. Northrup, and her diverse lineup of guests offer insights and inspiration for how to create vibrant, healthy, pleasurable lives vs simply avoiding disease.  Hear Dr. Northrup LIVE every Wednesday at 11:00 am ET/ 8:00 am PT  
Join me on HayHouseRadio.com, where you can listen live every Wednesday from 11:00 a.m. to 12:00 p.m. ET. Here's what you can look forward to on Flourish! my Internet radio show:
4/4 – How To Identify the Energy Vampires in Your Life. Now that you know what an energy vampire is, do you think you could recognize one if they walked into your life? After this episode of the Dodging Energy Vampires series on Flourish, you will. Join Dr. Northrup and her guest, Melanie Tonia Evans, leading expert in narcissistic abuse recovery whose healing methods have helped thousands of people fully recover from narcissistic abuse. Do you walk on eggshells around someone out of fear? Is your sister only happy if the conversation is about her? Does your BFF name drop, constantly make excuses, live for drama, or always feel she is being victimized? These are just some of the clues that you may be hanging around with an energy vampire. Tune in to learn how to identify the energy vampires in your life.
4/11 – Get Ready to Feel Good! If you have an energy vampire in your life, it's best to be prepared to protect yourself. In the third episode of her Dodging Energy Vampires series on Flourish, Dr. Northup will help you become energy vampire-proof. Join her for a self-assessment conversation to help you identify the characteristics (i.e. super traits) you have that may allow you to become prey for energy vampires, and learn the tactics that will allow you to always put your own oxygen mask on first when confronted by one.
4/18 – How To Recover Your Health After an Energy Vampire Relationship. Getting your health back after a relationship with an energy vampire can seem daunting. Blocking someone on your phone and social media can help, but you still need to get the toxins out of your system. Join Dr. Northrup and Kelly Brogan, M.D. to learn the techniques – including diet, movement, and self-inquiry – so you can truly become physically, emotionally and spiritually healthy after ditching your energy vampire.
4/25 – From Pre-Menstrual Reality to Post-Menstrual Wisdom. PMS is very common today – at least 60% of women suffer from some PMS symptoms. There is still a belief among conventional practitioners that PMS is strictly hormonal and has nothing to do with a woman's life. The truth is when you ignore your cyclic nature you are disconnecting from your body's wisdom. And, if you don't pay attention to the issues that come up premenstrually during the years when your periods are regular, it is likely that your symptoms will escalate during perimenopause and beyond. That's why it is important to understand that every premenstrual issue is potentially related to a larger, deeper need that is not being met. Join Dr. Northrup as she tells you the true meaning of PMS, and how you can turn your pre-menstrual reality into post-menstrual wisdom.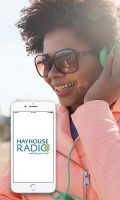 All New Hay House Radio App
A Hay House Radio app for your phone is also available, too! This is a wonderful way to listen live or catch up on episodes you may have missed. Be sure to check back for updates frequently.