Learn to flourish in all areas of your life with guidance from Dr. Christiane Northrup. You'll be treated to a series of conversations between Dr. Northrup and a number of extraordinary minds, such as Cheryl Richardson, Dr. Bruce Lipton, and others. This bestselling author and women's health specialist, Dr. Northrup, and her diverse lineup of guests offer insights and inspiration for how to create vibrant, healthy, pleasurable lives vs simply avoiding disease.  Hear Dr. Northrup LIVE every Wednesday at 11:00 am ET/ 8:00 am PT  
Join me on HayHouseRadio.com, where you can listen live every Wednesday from 11:00 a.m. to 12:00 p.m. ET. Here's what you can look forward to on Flourish! my Internet radio show:
9/26 – How To Live The Sweet Life. In part 4 of Your Fabulous Body, Dr. Northrup shares the type of lifestyle that will support your body for the rest of your life. From healthy eating and getting the proper types and amount of exercise, to managing stress, developing rituals of pleasure and feeling joy daily, join Dr. Northrup for an uplifting and empowering show, and learn everything you need to stay vibrant, healthy and happy, for life.
10/3 – How to Use Your Inner Wisdom to Make Decisions. There are hundreds of different opinions about what you should eat, how you should move, what medical tests you should have, whether or not you should get a mammogram — and so on. Many of these opinions are from well-respected experts who have good studies to back up their recommendations. Yes, often the information we are presented with is contradictory. Vegan or paleo? Aerobic exercise or weight lifting? Yearly mammograms or thermograms? Annuals health exams or not. At the end of the day, there is no one right answer. There is only the answer that is right for you. So, how do you decide? In this episode of Flourish, Dr. Northrup talks about how you can tune into your inner wisdom to make healthcare and lifestyle decisions that are always right for you.
10/10 – Breast Health Awareness. Did you know that the risk of a woman dying from breast cancer if she doesn't have regular mammograms is less than one percent? It's true. But, this time of year, all you see is pink ribbons and "Support the Cure" everywhere you turn. The problem is that "Support the Cure" places emphasis on women contracting breast cancer and Western medicine curing them, rather than teaching women what they can all do to prevent it in the first place. In this episode, Dr. Northrup will talk about how to approach the "screen and detect" mentality. She'll share which breast tests are useful (and when you should get one) and how you can keep your breasts healthy for life.
10/17 – Love Is in The Air. It is often said that we can smell when something isn't right. But, did you know that humans can actually smell when something – or someone – IS right? That's because pheromones dictate who we are attracted to. But did you know that pheromones can help regulate your menstrual cycle, improve your fertility, and lessen the symptoms of menopause? Join Dr. Northrup and her guest, Winnifred Cutler, Ph.D., President and Founder of the Athena Institute for Women's Wellness, as they discuss Dr. Cutler's research, the effect pheromones have on us, and how you know when love is in the air.
10/24 – Are You Addicted to Stress? We all need some stress in our lives. For example, we need stress (in the form of vertical vectors) on our bones to keep them strong. We also need stress on our brains in order to learn new things. But chronic, unrelenting stress – the type that causes you to miss your period or your hair to fall out – is the type of stress that gets you into trouble. Yet, many women are addicted to the adrenaline rush caused by stress. If feeling anxious and overwhelmed is normal to you, be sure to join Dr. Northrup as she discusses how you can make small changes that will help you break free from stress addiction and improve your health.
10/31 – How to Make Your Dreams Your Reality. Are you juggling a million things and still not living your dream life? Dr. Northrup's guest today is her daughter, Kate Northrup. Kate has always known what she wants and has learned how to get it. As an entrepreneur, best-selling author, and mother, Kate's life is a testament to making her dreams happen – including being inspired and having health, financial independence and true happiness. Join Dr. Northrup and Kate Northrup for a discussion on where to invest your time and energy to find balance, why you need to release what doesn't support you, and how you can make your dreams a reality.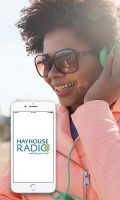 All New Hay House Radio App
A Hay House Radio app for your phone is also available, too! This is a wonderful way to listen live or catch up on episodes you may have missed. Be sure to check back for updates frequently.