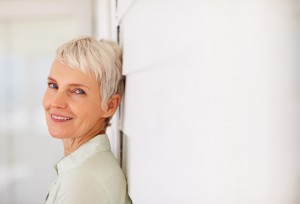 I watched the final Barbara Walters Special this week, just before the Oscars. Because it was her last show, there were lots of clips from all the specials. I was struck by the beauty of Ms. Walter's clothes over the past 30 years. I also learned that she is now 80 years old. How fabulous to see such a smart, beautiful, intelligent woman at the top of her game—and always looking really stylish! Like Barbara Walters, Meryl Streep and Helen Mirren are also beautiful women over 60. They were dazzling at the Oscars.
I find that I'm particularly tuned in to the struggle many women have about dressing appropriately for their age. Today, I was at a local boutique trying on clothes in a dressing room. I heard a woman say, "I guess I have to accept the fact that I'm old, and dress accordingly."
What does that mean? Well, clearly, wearing hot pants or mini-skirts without tights or leggings are probably not good ideas for women over 60. Other than that, go with good taste! In fact that advice rings true at every age.
I couldn't contain myself. I walked out of the dressing room and said to the owner, "I feel called to a mission here." I looked at the woman who had uttered the "old" word. She looked adorable in a dress that I myself had tried on several days before.
She said, "Don't you think this dress is too young for me?"
I said, " No, the dress is beautiful. Don't think about dressing for your age, think about what makes you feel beautiful. But, you have to own it. When you're wearing that dress, you must feel beautiful in it. It has nothing to do with age. It's all about beauty."
There was no self-sacrifice in my gesture. I was compelled! Why? Because I had nothing to lose and everything to gain. And I didn't care one way or another what she thought of me. What was important is this: Here was another female baby boomer about to succumb to ageism. And, having escaped from that trap myself, I could no more let her stay in that mindset than leave her bleeding to death! I felt duty bound to uplift her and change the direction of her self-talk.
Later, the boutique owner called me and said the woman had bought both of the dresses she had tried on. Score one for beauty. Not ageism. A hit-and-run pleasure intervention that was very fun for me. And a shopping experience that was uplifting for her. Plus, now those dresses will be imprinted with beauty and fun, not some obsolete conversation about being too old to feel beautiful.
After watching Barbara Walters, Meryl Streep, and Helen Mirren on television this week, it's clear to me that beauty is ageless. We can all have it and feel it.
Last Updated:
March 17, 2010